Unveiling the Power of MetaMask Snaps on MMI
MetaMask Snaps, customizable features for MetaMask built by third-party developers, are now available on MetaMask Institutional, offering customization to institutional DeFi.
Permissionless innovation is a key principle of web3. The fact that anyone should be able to create new use cases based on blockchain is fundamental to the ethos of web3, and thereby to MetaMask Institutional (MMI). As a result, a core belief in our work is to always enable our users to innovate freely, without any constraints.
To further this permissionless innovation in the Ethereum ecosystem, MetaMask launched MetaMask Snaps last month, features that extend the capabilities of the world's most popular web3 wallet. Today, we are thrilled to announce that we are now bringing the power of Snaps to MMI.
The integration of MetaMask Snaps into MMI is a significant milestone for institutions participating in decentralized finance (DeFi). MMI is a platform tailored specifically for crypto hedge funds, venture capitalists and builders, and incorporating Snaps into MMI provides them with additional security and compliance functionality when interacting with DeFi.
What are Snaps?
Snaps are features and functionalities, built by third parties, that allow users to customize their MetaMask wallet. Third-party developers can now build individual Snaps to enable specialized features that can then be installed by users directly into their MetaMask wallet.
Snaps is how MetaMask aims to achieve its goal of permissionless innovation. By allowing third-party developers to create custom features and functionality in the MetaMask wallet, Snaps enables web3 to innovate at a faster rate. The first step on the journey, MetaMask Snaps Open Beta, enables users to connect to non-Ethereum blockchains, enhance security, and stay informed with notifications directly in the wallet.
Snaps are currently available for everyone to try out on MetaMask Extension v11.0 and up and MMI Extension v11.4 and up (available on Chrome and Firefox). In its initial version, MetaMask Snaps Open Beta will be a curated list of available features that have undergone third-party security audits and whose code is publicly available for community review. In the future, our goal is to empower anyone to create and publish a Snap that any user can safely install.
MetaMask Snaps Now on MetaMask Institutional
The latest version of MetaMask Institutional, Extension 11.4 and up, allows users to select from a range of Transaction Insights Snaps and Notification Snaps to extend the capabilities of their MMI wallet. For instance, when executing trades on Decentralized Exchanges (DEXs), users can now access comprehensive data that spans from potential smart contract vulnerabilities to projected input and output amounts using transaction simulation. This enhancement substantially aids crypto hedge funds by providing an in-depth understanding of the risks involved prior to submitting the transaction for signing. We are working together with custodial and non-custodial technology providers to build custom Snaps that will allow institutional users in the future to transact on non-EVM chains such as the Bitcoin or Cosmos ecosystem, whilst using the key management solution of their preference.
How to use Snaps on MMI?
Installing Snaps for the MetaMask Institutional wallet is straightforward. Visit snaps.metamask.io and browse through dozens of Snaps. To install a Snap you can simply click on "Add to MetaMask" for the selected Snap. For all Transaction Insights Snaps you will find an additional tab on the transaction confirmation screen where you can view additional information of the associated transaction.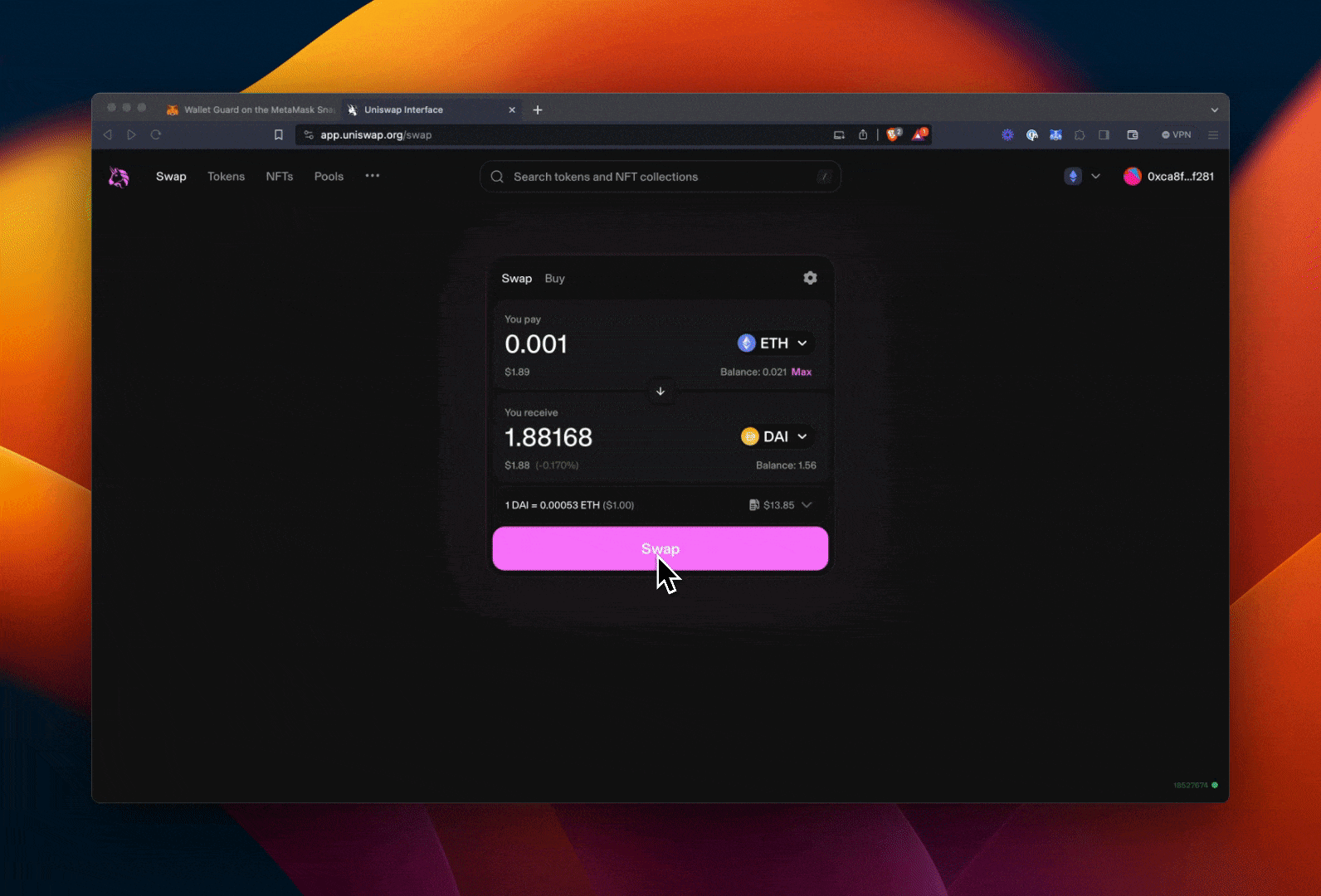 Conclusion
The integration of MetaMask Snaps into MMI is another step in our continuing journey to provide unrivaled access to web3 and DeFi to our users. By offering crypto hedge funds, venture capitalists and builders a more customizable wallet, MMI is helping to bridge the gap between traditional finance and DeFi.